With summer around the corner, the UK population likely to be holidaying closer to home, and operators able to welcome back guests inside their premises, ice cream is set to be in greater demand.
Which flavour?
Ice cream company, Comelle (a Lakeland Dairies company), surveyed UK consumers recently in order to get some insight into the nation's favourite summer treat, and emerging triumphantly as Britain's number one choice of summer treat was vanilla soft serve ice cream, they found.
Consumers were surveyed in April 2021 with 247 responses from UK adults secured. Overall, ice cream was revealed to be the nation's favourite summer treat with a whopping 90% of consumers voting for it. Within ice cream, soft serve ice cream in particular (like the type you can buy from an ice cream van in a cone), was the number one choice (59%), they found, followed by scoop ice cream (31%). These were far ahead of other treats in popularity such as chocolate, which was the third favourite (6%) or crisps (2%) in fourth place. Vanilla topped the list for favourite flavour of ice cream (25%), followed by chocolate (23%) and then mint choc chip (21%).
Separately, consumers were asked what their least favourite flavour was. A quarter of people voted pistachio the most unpopular ice cream flavour, followed by banana (19%). The survey also found that bubble gum flavoured ice cream was considered the most unusual flavour of ice cream which had been tasted, along with cotton candy, banana, rose and prune flavours. Stracciatella - a variety of Italian gelato consisting of milk-based ice cream filled with shavings of chocolate - was also cited as "unusual". The classic '99' chocolate flake was voted the nation's favourite topping to go with an ice cream (33%), followed by caramel sauce (16%) and then chocolate sauce (12%).
Of all frozen treats available, consumers voted soft serve ice cream their favourite (42%), with ice lollies in second (19%), and ice cream desserts such as an arctic roll taking third place (15%). Nearly half of those surveyed (46%) said in a typical year they bought a soft serve ice cream more than five times a year, whilst 6% of consumers said they would only buy once per year or 'occasionally'. Comelle's survey also found most consumers associated soft serve ice cream with a British summer holiday at the seaside (48%) and childhood memories (17%).
"With the long-awaited opening up of restaurants and cafés we wanted to explore how Brits love to treat themselves in the summer months, and what they are most looking forward to buying this year," says Jean Cattanach, marketing controller at Lakeland Dairies.
"We were delighted to see vanilla soft serve ice cream top the list of summer treats. It's Comelle Ice Cream Mix's seventieth anniversary this year and as we celebrate seven decades of creating award-winning ice cream it's wonderful to see how nostalgic Brits feel about one of life's simple pleasures such as enjoying an ice cream on the beach."
Comelle Ice Cream Mix has been enjoyed since 1951 and to mark its seventy years, the brand has released its Best Ever Recipe and a new pack design. In addition, it is offering a helping hand to the industry by giving away seven big presents over seven months including cases of Comelle, Comelle giant ice cream cones and a Taylor Soft Serve machine worth over £9K (to find out more, visit www.lakelanddairies.com/foodservice).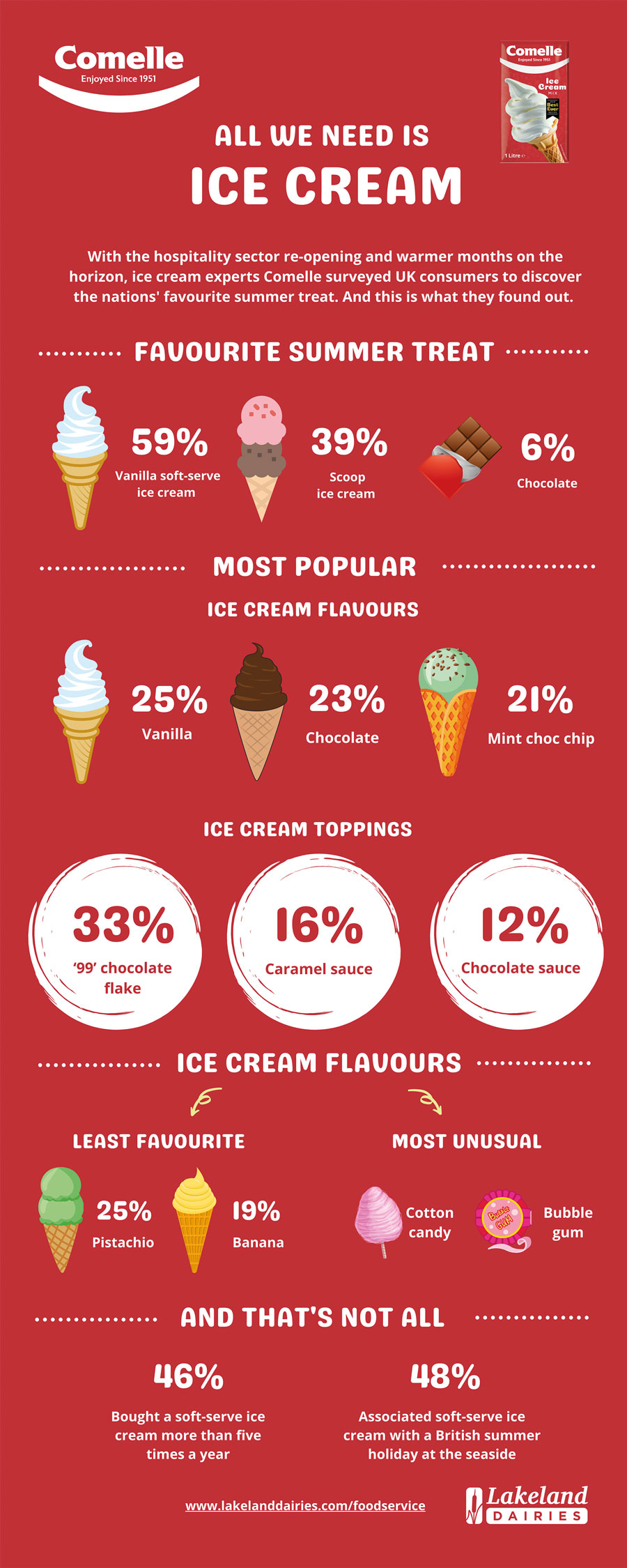 Making an impression
"Premium soft serve is a growing international trend in the world of frozen desserts. Over the last 12 months, many businesses have focused on takeaway and delivery to ensure that we Brits get our fix of our favourite dessert, but now, with doors wide open and customers seated inside, operators are ramping up the choices available to customers to meet the new trends for premium soft serve and shakes," says chef, Joe Yates, trainer, demonstrator and development chef at Carpigiani UK (www.carpigiani.co.uk).
"The focus is on quality ingredients, interesting flavours and creating 'Instagrammable' desserts with innovative toppings and colourful combinations. With so much home baking happening over lockdown, customers are keen to treat themselves to a delicious ice cream or thick shake at their favourite restaurant. One of the big trends we've seen in desserts is the ice cream/milk shake, or freak-shake, which is a complete overload of toppings - biscuits, chocolate, sweets etc. - all swirled around an ice cream or gelato base – a visual feast as well as a tastebud explosion."
Having been at the forefront of many trends in the industry, Carpigiani say that they set up the Carpigiani Dessert Club (https://info.carpigiani.co.uk/en-gb/dc-sign-up) last year, and have since been running webinars and sharing information to keep operators up to date on the latest news with frozen desserts, and some key areas for restaurant owners to consider, they propose, include plant-based options.
From coffee and hot drinks to veggie burgers, plant-based products have made huge inroads into our food and drink culture in the UK, they point out, and in the world of ice cream and desserts, oat, almond or coconut can really add a different element to an ice cream or gelato, they feel, with customers now expecting to see this type of offering on a dessert menu.
For their own social media accounts, and yours, point out Carpigiani, the Instagramable nature of freak-shakes and over-the-top ice creams provide a talking point and a visual delight that will satisfy a customer's sweet tooth and also generate word of mouth. Colours, unusual ingredients, biscuits, jelly beans, candy floss, novel serving vessels, bright edible flowers, cake pops or chocolate mesh, make plating a focus to get the phone cameras flashing (and remember to include your Instagram handle to really maximise the coverage).
"Increasing profit from a small space is ideal for a restaurant and and we have a range of models to ensure the perfect machine for any venue," adds Paul Ingram, Carpigiani UK's MD.
"Where space is at a premium, the Carpigiani 161 series, for example, offers state of the art technology with features usually reserved for larger, floor standing machines - including a self-pasteurising model - and this compact series has a footprint of just 300mm x 630mm x 850 mm (w/d/h). It features a contemporary stainless-steel, counter-top design, complete with multifunctional display, standard 13 Amp plug-and-go operation, never before available for a self-pasteurising model.
"As with all the models in the Carpigiani soft serve range, the 161 features a tank agitator. Designed to prevent the mix from separating within the tank, the agitator is essential when serving frozen yoghurt as an addition to a soft serve ice cream menu. In summary, an incredibly easy to use appliance, with an impressive hourly output of up to 15kg that will enhance a business wanting to offer soft serve, shakes and on the go options."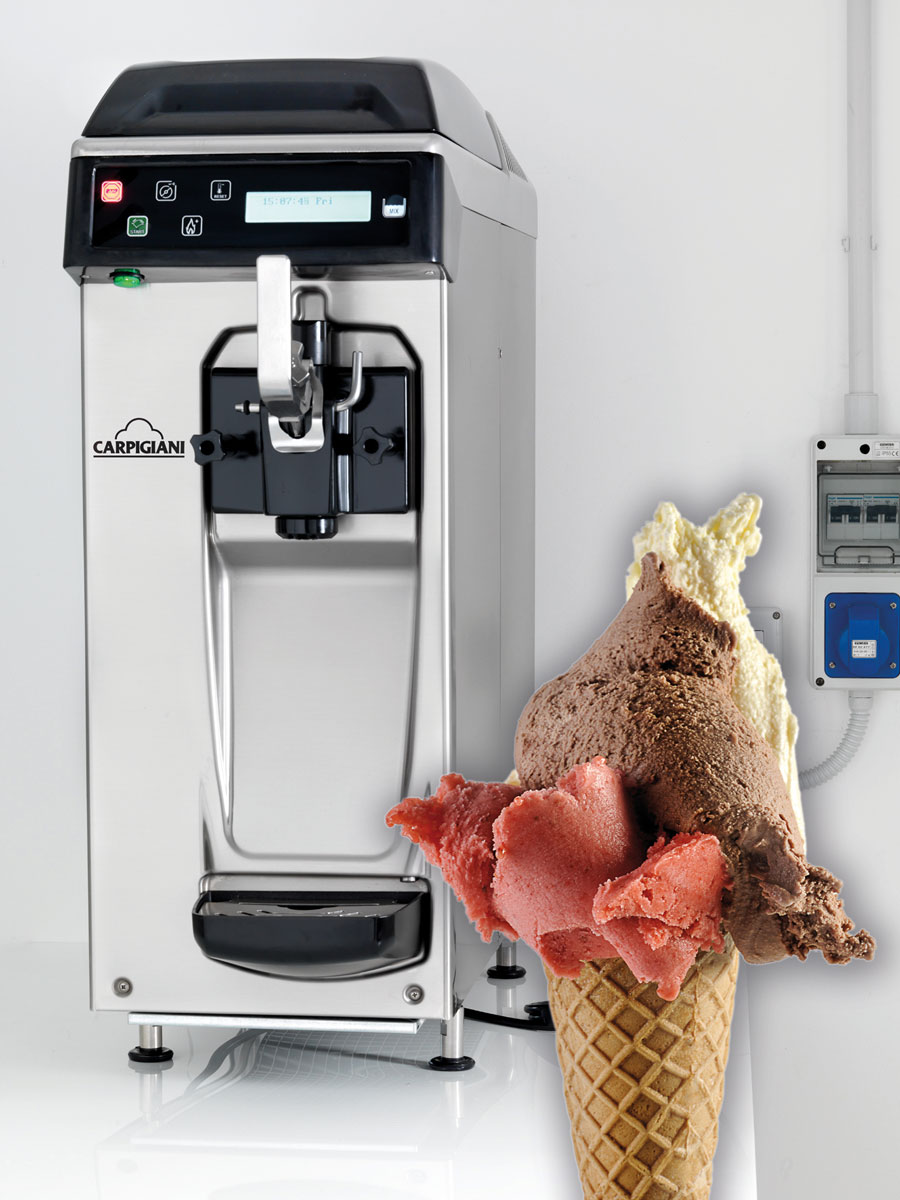 Adding artisan
Taylor UK reports that it is now supplying the C122 countertop batch ice cream maker from Frigomat. It is the smallest batch freezer made by Frigomat, designed to allow businesses of any size to add a range of freshly made frozen desserts to their menu, say Taylor UK.
With increasing numbers of businesses looking to adapt to a post-lockdown model where takeaway and passing trade will be more important, the trend of recent years for artisanal ice cream, gelato and similar frozen treats are a simple way to diversify menus. However, many businesses don't require the production capacity of larger units and don't have the space for them.
The C122 is just 440mm wide, 820mm deep and 690mm high, allowing it to be easily installed in smaller locations. It has a batch production capacity of up to 3kg, depending on product, and can run multiple batches for a maximum output of up to 15kg per hour. It also features the same advanced freezing technology and control systems of larger units in the Taylor by Frigomat range, guaranteeing consistent results.
Six freezing programmes allow operators to set the output viscosity based on the type of mix, with an automatic preservation cycle that keeps it in perfect condition until it's ready to be dispensed. The freezing chamber includes a stainless steel beating frame with removable scrapers that ensure maximum output and even freezing.
Taylor supplies a wide range of Frigomat batch freezer artisan ice cream makers, from the compact C122 to the C116, which can produce up to 90kg every hour. More information, along with a useful profit calculator that can show operators how much money each unit can make can be found at www.taylor-company.co.uk.