Greater demand for free-from and vegan dishes is becoming more widespread, with 'lockdown' having provided an opportunity for many to focus on their eating habits.
Behavioural change
A significant number of Brits are thought to have reduced the amount of animal products they are consuming since the start of the Covid-19 pandemic, if the latest research commissioned by the Vegan Society is anything to go by.
Their new survey that focused on changing consumer habits over the last 12 months found that one in five (20%) people have reduced the amount of meat they are eating while 12% say they've minimised their eggs and dairy intake. 7% of respondents revealed they have cut down on all three, meaning that one in four (25%) have actively cut back on some form of animal products since the first lockdown ("Change in behaviour during the COVID-19 pandemic", conducted through Attest in April 2021, 1,000 respondents, nationally representative).
The survey also found that more than a third (34%) are spending more time with their companion animals, and 32% are also thinking more about their personal impact on the planet.
In a second survey aimed at those who had cut back on animal products 35% said they were mainly motivated by health concerns, with that figure rising to 39% for those aged 55+, while 30% said the environment was their primary motivation. One in four (21%) said it was down to animal rights issues.
Combined, this means 86% of people cutting back on animal products during lockdown, are doing so for the same three primary motivations people give in their decision to go vegan – health, environment, and animals. Other motivations included animal products being too expensive (8%) or not being available in shops (5%).
So what food products are people buying instead? 54% revealed they'd bought meat alternatives for the first time during lockdown with 78% saying they will continue to buy them again in future. For those who had specifically said they had reduced their meat intake over lockdown, the majority (80%) stated that they'll continue to do so.
Plant-based milks are also proving to be a hit with 36% of respondents trying oat milk for the first time and of those 67% saying they'll purchase it again post-lockdown. Again, for those who had specifically said they were reducing their dairy intake, oat milk was even more popular, with 43% buying it for the first time and 69% revealing they plan to keep buying it too. Meanwhile, 60% of those (30%) who bought coconut milk for the first time in lockdown, plan to keep buying it in future.
When it comes to vegan staples such as pulses, including lentil and chickpeas, 32% bought them for the first time in the last 12 months and of those, 74% said they'll get them again in future. This was the highest percentage for future repeated purchase.
The latest findings mirror the results of a similar survey conducted by the Vegan Society during the first lockdown last year. The 2020 survey discovered that one in five Brits had cut down on meat consumption during the COVID-19 pandemic while 15% had reduced their dairy/egg intake over the lockdown period. However, unlike the more recent data, out of those who had reduced their meat or dairy consumption, 41% did so due to their preferred product not being available on the supermarket shelves, while 43% chose to reduce their meat consumption out of concern for health, environmental or animal rights reasons.
This insight follows on from the release of Veganuary's latest official figures which show a record breaking 582,000 people around the globe signed up, with 85% of the 2021 participants revealing they plan to at least halve their intake of animal products permanently.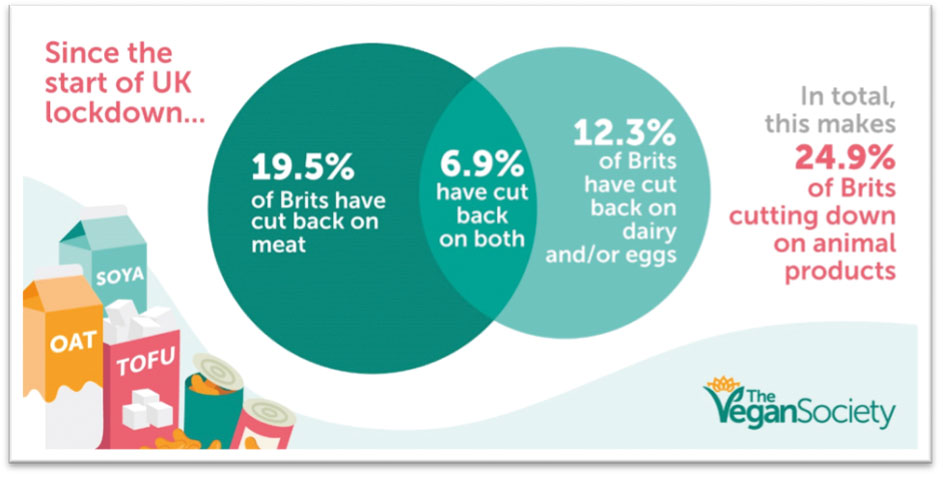 Latest partnership
Plant-based meat company, Jack & Bry (www.jackandbry.com) and Italian restaurant chain Prezzo have launched a major partnership that will now see vegan pepperoni on Prezzo pizzas in all 150 UK Prezzo restaurants.
The Prezzo vegan pepperoni pizza retails at £10.75, and Jack & Bry's jackfruit pepperoni is also included in the topping section for custom pizzas at a price of £2. This partnership marks another step into an expanded plant-based offering from Prezzo, who say that they will also be introducing a vegan chicken variant to their pizzas and pasta.
For Jack & Bry, the large Italian restaurant chain joins their quickly growing list of foodservice partners. To date, the business has supplied the likes of Papa John's, Zizzi's and Neat Burger with their products made from jackfruit meat, alongside rolling out a direct to consumer range of products including burgers, sausages and mince.
Since their inception in 2019, the food tech business has been at the forefront of plant-based foodservice innovation, particularly with jackfruits. Jackfruit pepperoni was the first product launched by the brand and continues to be its most popular offering, they report (earlier this year Jack & Bry celebrated selling their 20 millionth slice of pepperoni only two years since the business began trading).
This latest announcement also follows a successful fundraise earlier this year in which Jack & Bry raised £1.4m to help turbo-charge their development of jackfruit-based foods and products, further cementing their position as a leading jackfruit food tech business and a front runner in the plant-based meat-alternative market globally. Jackfruit is continuing to dramatically increase in popularity, due to the fruit's versatility, ease and sustainability of growth and famed all-round health benefits, they report.
"We're delighted to launch this nationwide partnership with Prezzo, another big step in the continued growth of Jack & Bry and the popularity of jackfruit products generally. We're thrilled to add Prezzo, a large and trusted restaurant chain, to our stable of foodservice partners and are delighted to be working with them to offer plant-based meat alternatives to everybody," says founder & CEO, Bryony Tinn-Disbury.
Bryony Tinn-Disbury was a producer in the advertising industry, making adverts for brands such as Virgin and KFC, but she held ambitions to create her own business and do something closer to her heart. After looking to her family for inspiration (Bryony's father was a pizza box maker in the packaging industry), combined with a love for plant-based food, she saw a gap in the plant-based pizza ingredient world.
After researching jackfruit and discovering its flavour-hugging and binding properties, she created the first Jackfruit pepperoni in late 2018, and Jack & Bry was born (Jack being the jackfruit and Bry being short for Bryony). The company has also created other 'meats' for pizza toppings, including jackfruit bacon and ham, having now moved onto a range of everyday favourites, including mince, chorizo, burgers, sausages and mince.
Bryonny Tinn-Disbury's co-founder of the business, Jennifer Pardoe, has spent 30 years in the food industry in operations and new product development, working for the likes of Starbucks and Eat. For the past eight years, she has specialised in plant-based NPD within her own product development consultancy PB&Co, working with international meat alternative brands. Introduced to Bryony by an investor in vegan venture capital fund, Beyond Impact, Jennifer Pardoe helped Bryony complete product development, launch the jackfruit product, joining the business as chief operations officer.
"We're incredibly excited to be partnering with Jack & Bry to further expand our plant-based offering as we welcome our much-missed customers back to our restaurants. We're pleased to be working alongside a business that's passionate about delicious plant-based alternatives," adds Jay James, Prezzo's director of marketing & communications. "It's great to have even more choice for our vegan and veggies customers, and for those choosing to eat less meat."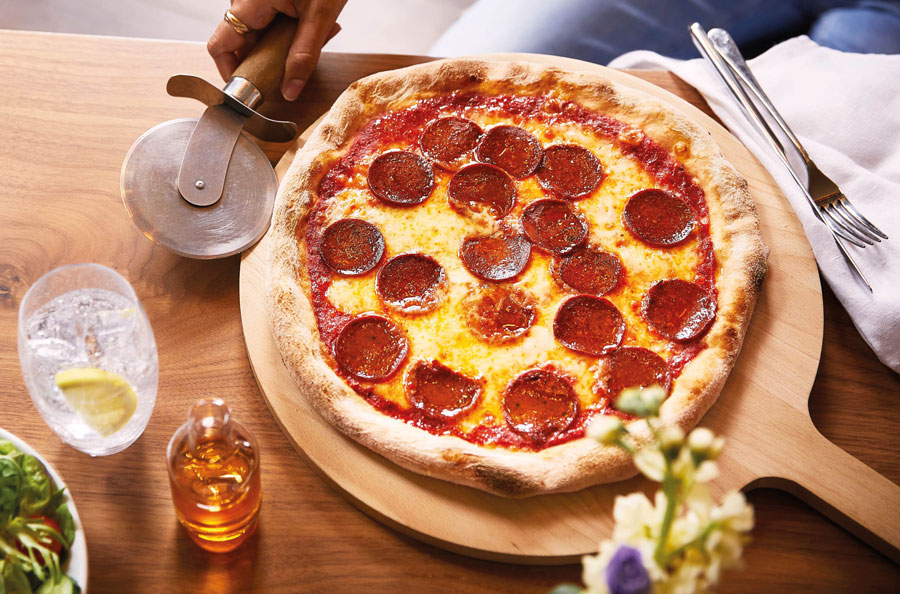 Dual purpose
"We are seeing 'dual' dietary criteria becoming more important," explains Gordon Lauder, MD of frozen food distributor, Central Foods (www.centralfoods.co.uk).
"For example, delicious products that are both vegan and gluten-free are being developed to help avoid menu proliferation and appeal to the widest audience. This helps overcome the issues of a reduced workforce and/or shifts in the kitchen. Pre-prepared vegan and gluten-free products will help reduce the risk of cross-contamination and, as a result, are particularly beneficial if prep space is limited.
"At the end of last year, Central Foods launched a new range of vegan and gluten-free pizza bases for the food service sector after teaming up with the White Rabbit Pizza Company. These Nudies have proved really popular with outlets keen to offer authentic, stone-baked pizzas. They taste so good that they are going down well with all customers, not just those looking for plant-based or gluten-free options.
"One key ingredient of meat-free products and dishes that's bang on trend currently is jackfruit – a fruit with a meaty texture, which takes on the taste of the spices it's cooked in. Central Foods has recently teamed up with Jack & Bry to launch four vegan items for the food service sector - sizzling sausages, juicy burger patties, sausage coins and pepperoni slices.
"All are made from tasty and nutritious jackfruit, which is gluten-free, low in calories and high in fibre. The pepperoni slices make superb toppings for vegan pizzas, while the sausage coins are ideal for making the ultimate meat-free meat feast pizza. Vegan friendly and suitable for those customers looking for gluten-free options, the Jack & Bry jackfruit pizza toppings are the perfect pairing for the White Rabbit Pizza Company Nudies.
"Free-from options for those who have genuine allergies and intolerances, as well as for the 'lifestylers', have become a well-established necessity on menus for caterers wishing to maximise their customer base and bottom line. This trend has accelerated in response to the pandemic as a result of people's heightened focus on their health and well-being.
"Vegan and plant-based options continue to rise in popularity and all the indications are that this trend will carry on once we're through the pandemic. CGS's MealMetrics service has predicted that consumers' focus on health during lockdown is likely to make vegan and vegetarian options more prominent on menus. Some 6% of people already follow a meat-free diet and CGA's separate BrandTrack research found that a quarter of Brits were seeking to cut their meat consumption.
"And according to Mintel, a quarter of young British millennials say that the coronavirus pandemic has made a vegan diet more appealing, while the survey last year also revealed that since the start of the pandemic, a vegan diet was proving more attractive to around 12% of Brits, rising to more than 20% of Londoners.
"We believe that vegan and plant-based options will continue to be one of the top trends for 2021, fuelled not only by the increasing number of vegans but also by those who are reducing their meat intake and choosing a flexitarian diet for health and environmental reasons."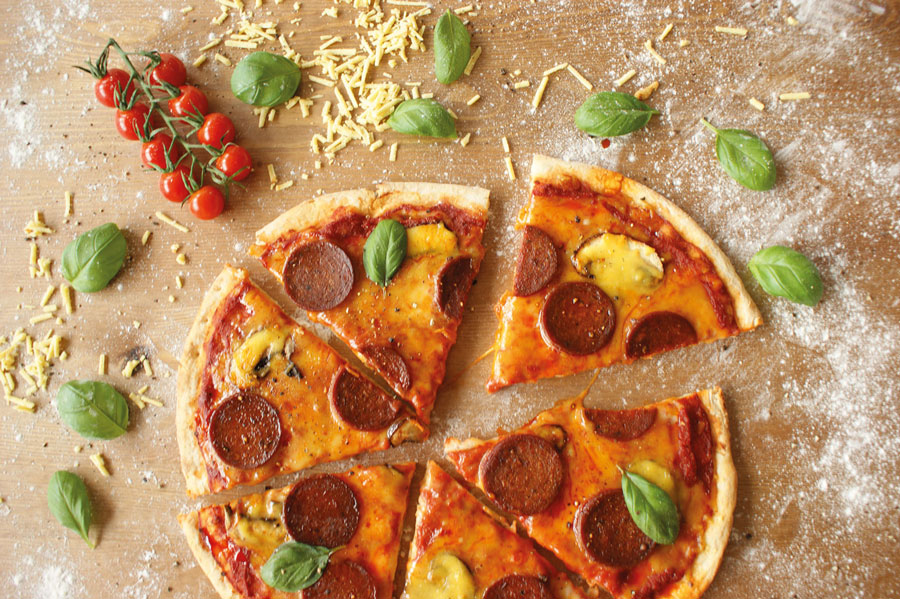 Greater requirement
UK ingredients supplier, Eurostar Commodities, says that it has increased its range of premium gluten free flours to serve rapidly expanding consumer and manufacturing demand. With a focus on high-quality, premium taste, and flexibility, their range delivers structure to create a wide variety of different baked goods, feel the company, Eurostar's technical development team having set out to provide specialist flours for all kinds of manufacturing.
"We want to make it easy for manufacturers to deliver gluten free products to their customers. We've always held the belief that being gluten free should not prohibit you from enjoying delicious baked goods," says Philip Bull, MD, Eurostar Commodities.
"We have committed substantial resources to developing a range that delivers high quality flour that performs as well as, or better than a product that contains gluten. It has been a real journey to work with new ingredients to create the perfect recipes that we believe we have achieved. We have been blown away by the positive response from people who can now cook and eat whatever they want. This is what drives us on – improving quality and moving quality to the next level."
Eurostar's Della Terra brand of gluten free pizza flour (1.5kg/3kg/12 kg cases), for example, is their premium, white gluten free pizza flour and features a blend of naturally gluten free ingredients and is very versatile. A popular choice for pizza bases, it can also be used for focaccia and ciabatta, and gives the same consistent results with the added benefits of being gluten-free, higher in fibre and vegan friendly, say the company.
All products in their gluten free range are 100% gluten and allergen free, having been packed in a gluten and allergen free factory, with pizza chains also increasingly using gluten free self-raising flour to produce part-baked bases in safe environments for all of their restaurants, Eurostar report.
Jason Bull, director, Eurostar Commodities, explains: "Gluten free self-raising flour offers a unique technical specification for larger businesses who wish to scale the production of their gluten free offerings.
"Creating part-baked, and part-risen, more flexible doughs (far more liquid than usual) means that pizza chains can create their gluten free pizza bases in one location ensuring that there is no cross contamination.
"Self-raising works well in this format as it is strong enough to retain shape and size but also has inherent rising properties to ensure great rise and air-filled crust. It is strong enough to maintain its structure while it travels to restaurants allowing restaurants to really upgrade their gluten free pizza offering while making it easy for chefs and improving quality for customers."