Whether you're a rookie chef or a customer, the pizza experts are ready and waiting to deliver their invaluable expertise.
NORTHERN EXPOSURE
Yorkshire's first Pizza Academy of Excellence welcomed 40 of the UK's finest pizza chefs and industry professionals to its first pizza masterclass.
The event was held at the HQ of family ingredients business, Eurostar Commodities, and was taught by leading Italian Pizzaioli, Marco Greco.
Puglia-born Greco flew in from Italy to deliver an exhibition of skill around latest technological techniques in pizza making, combined with traditional methods of fermentation. New dates have been added to deal with demand.
Greco said: "I was so impressed with the desire to learn from the British chefs who attended the Pizza Academy. Pizza is constantly evolving, and as expert Pizzaioli we have a responsibility to educate and share knowledge to drive the industry forward."
Jason Bull, MD, Eurostar Commodities, said: "We have been blown away by the calibre of talent that attended the very first Pizza Academy. Chef Marco was outstanding, and we thank him for his inspiring work. We are very proud to host all of this in the heart of Yorkshire and make the region the centre of premium pizza making in the UK."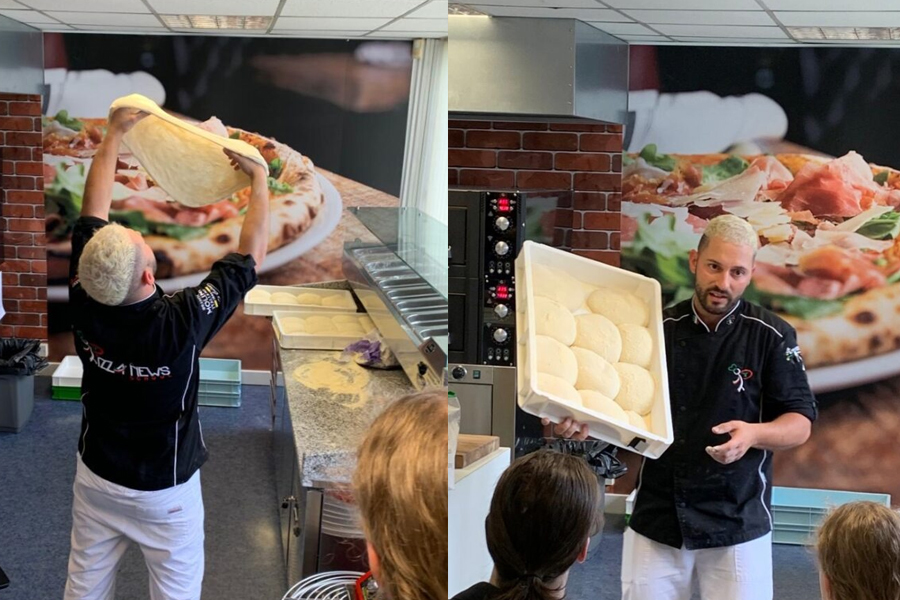 GLOBAL INFLUENCE
Over the past 15 years, Greco has worked in five countries, started multiple restaurants, and is a multi-skilled pizza chef and master instructor, teaching out of the world-famous Pizza News School in Italy. He is also executive pizza chef at Ceppis Trattoria in Amsterdam and an associate of Albo Pizzaioli. Marco is a highly experienced trained tutor of Grandi Molini Italiani.
The Pizza Academy of Excellence is in Brighouse. It runs a schedule of masterclasses, working with the latest Grandi Molini Italiani flours and exploring best practice techniques with the Neapolitan style pizza, classic pizza and other styles – including gluten-free pizza and speciality Italian breads.
Featured chefs are proponents of Grandi Molini Italiani (GMI) flours.
To register interest in the next Pizza Academy, email Diane Crabtree at This email address is being protected from spambots. You need JavaScript enabled to view it..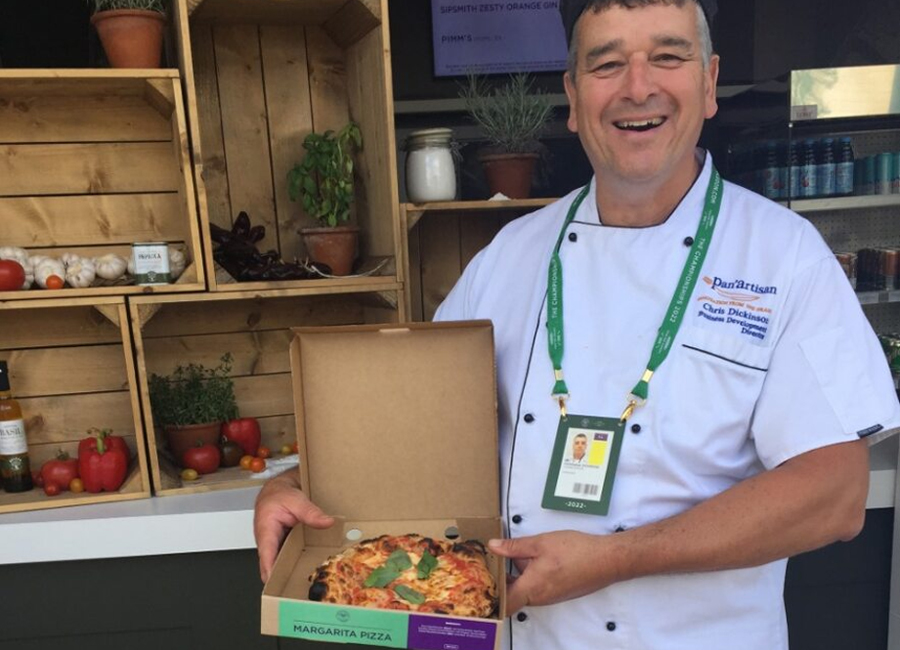 COMPREHENSIVE PACKAGE
Pan'Artisan offers a core product range focused on savoury dough-based products, with expertise in pizza bases, balls and speciality breads – all made using authentic Italian processes. The company draws on a wealth of experience to provide customers with a comprehensive training package to achieve peak performance from their premium quality dough range.
Bakery expert, Pan'Artisan's business development director, Chris Dickinson, uses his vast experience to offer full product support. This ensures each stage of dough preparation – from raw product to finished menu item – is executed to get the very best results for a customer's particular operation.
"We provide training to a multitude of customers, from independents to high-street chains and high-end restaurants. For another year, we worked at the Wimbledon Championships for their pizzeria offering," said Dickinson.
"We interact with customers to identify needs, resolve any issues, nurture relationships and offer a full product training programme. We also carry out customer audits to maintain business and promote satisfaction in product and handling across all business sites. Customers often require a specific product that may incorporate their own ingredients, so we are happy to create bespoke options to suit different handling techniques and levels of equipment such as rollers, presses, oven types and employee skillsets too.
"Training covers dough handling from defrost through to what comes out of the oven, including serving. Detailed instruction is given regarding the stages of defrosting and proving to ensure that the yeast provides the perfect 'oven spring' to the crust, so that the proving results in the desired fermented flavour. We also teach how to get the preferred crust, demonstrating stretching techniques to achieve either flat to the rim or leaving the edge to form a much higher crust for an open crumb structure, such as when using Pan'Artisan's Hi-Crust dough balls.
"Pan'Artisan's training is fully comprehensive, with demonstrations and instruction in how to get the dough into the oven, whether using a traditional peel or a carrier such as a board. Care over presentation is also important and we offer suggestions in how adding a range of toppings after baking can enhance flavour and appearance; for example, by using rocket, Parma ham and Parmesan shavings.
"We also produce step-by-step picture guides and create detailed handling models to assist with ongoing consistency of product usage that has been learned through our training programmes. Follow-up visits are offered to ensure new colleagues are taught to the same standards and that existing staff maintain their skills."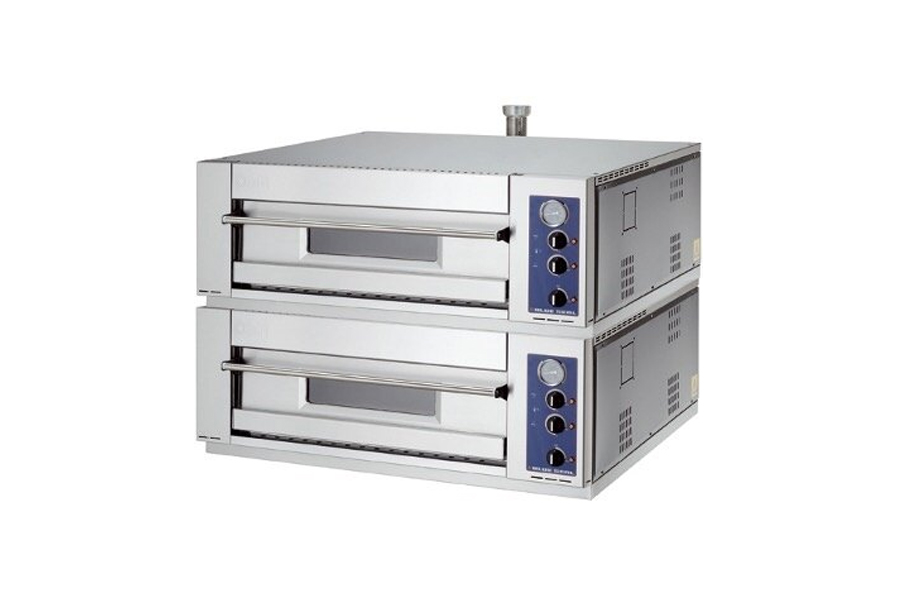 POWER AND ACCURACY
While pizza chefs combine the traditional with innovation, Blue Seal commercial pizza ovens adopt the same approach. Their Italian-style, stone base deck ovens are ideal for deep-base or thin-based pizzas. Designed for everyday professional use, the powerful electric ovens cook at high temperatures to ensure fast service and great results.
The Blue Seal pizza electric ovens also offer an alternative to wood burner stoves or gas ovens, which are higher maintenance and require more specialist and costly extraction systems to take away smoke and fumes.
These accommodate 4x12" pizzas per deck – compact, versatile and operator friendly. Ideal for restaurants with outdoor seating areas, wanting to offer quick service for alfresco dining to their guests. And for a pizza school environment, a single oven on a stand would accommodate the students' operation needs per workstation – enabling them to cook in the traditional way, baking directly onto the stone tiles.
Single and twin deck ovens operate up to 400 degrees centigrade, giving optimum cooking temperatures for decks of their size. The single deck can be stacked onto the twin deck very easily, creating a triple deck, maximising the output from the floor space. Oven chambers all function independently, allowing the pizza chef to control temperatures and bake more types/sizes of pizzas at once.
Restaurants, and pizza schools, require uncompromised, consistent, quality results from their equipment. That is why Blue Seal pizza ovens use accurate thermostatic temperature control, eco-compatible material for thermal insulation, and high-quality refractory stones which provide excellent heat retention.