For chef Vittorio Meli, delivering an authentic Sicillian experience to East London is a priority – and at Zoom East Kitchen & Bar, he appears to be succeeding.
INTIMATE AND FAMILIAL
Zoom East Kitchen & Bar is a Sicilian restaurant that opened in London's Whitechapel in 2022. The venue brings the warmth and vibrancy of authentic Sicilian cuisine to the heart of East London. At the helm is head chef Vittorio Meli, who originates from Catania, Sicily, where his family has owned and run restaurants for over three generations.
Meli's passion for cooking and the traditions of Sicilian cuisine began as a young boy in the kitchens of his great uncle and his own father's restaurants. He learned the carefully handed down recipes of the family, which he now brings to Zoom East.
The venue celebrates the charm of Italian hospitality with art-laden walls, contemporary botanical spaces and colourful interiors, all of which create an intimate, familial atmosphere straight from the trattoria playbook.
"Growing up in Sicily, cooking and sharing food was a big part of family life," said Meli.
"The menu at Zoom East is inspired by that, with lots of dishes made to be shared. The thing I love most about Sicily is the vibrancy of produce in the spring and summer months – and that has also been an inspiration behind the dishes on the menu."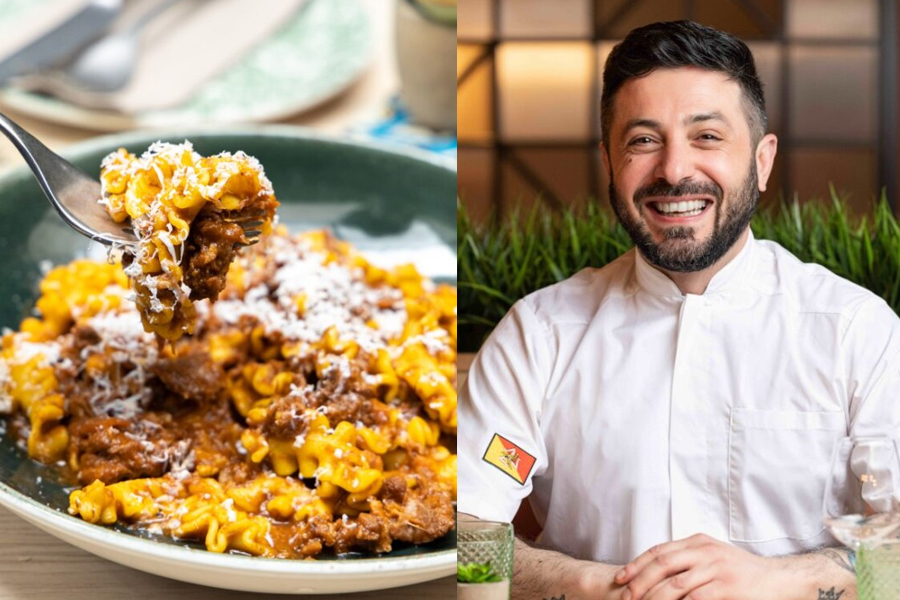 GET STUFFED
Meli and his team aim to provide an exceptional dining experience. Sicily has a unique cuisine that differs from the rest of Italy, known for its fresh ingredients, bold flavours and strong Arabic and North African influences.
For spring, the restaurant launched a new menu that explored some of Meli's favourite dishes that captured the essence of Sicilian cooking in the warmer months. This is his favourite time of year for eating in the region, with some of his favourite ingredients – from asparagus and artichokes to courgettes and tomatoes – in abundance.
Meli's favourite dish on the new menu is the Sicilian Stuffed Squid. "With Parmesan, raisins, orange and sundried tomatoes, the Stuffed Squid dish demonstrates typically Sicilian ingredients and flavour combinations," said Meli.
Fresh antipasti dishes include a Fritto Misto – crispy tempura market seafood and courgettes with lemon parsley aioli – and a Watermelon & Saffron Pecorino Salad. A modernised Sarde a Beccafico is a fresh salad dish of sardine fillets breadcrumbed with Parmesan and herbs, served with a fennel and pickled red onion salad. Classic dishes such as Arancini, Caponata and Pasta alla Norma are mainstays on the menu and have proved to be exceptionally popular.
New Secondi seafood fare includes Stuffed Squid with Parmesan, raisins, orange and sundried tomatoes, pan fried with nduja and served with squid ink aioli. A dish of Mackerel Skewers makes use of the best Cornish mackerel, served with seasonal vegetables and the typically Sicilian salmoriglio dressing.
Branzino is served simply with roast pepper sauce and gremolata. New pasta dishes include Granchio Linguine with fresh brown and white crab, cherry tomatoes, chilli, garlic and parsley, and Beef shin Mafalda – a popular flat and wide ribbon pasta, with braised beef shin & porcini mushroom ragù.
Desserts include Migliaccio – a Southern Italian ricotta cheesecake with walnuts and carob and coffee sauce – and Almond Biancomangiare, a traditional Sicilian Almond milk pudding, flavoured with orange blossom water, pistachio praline and candied fruits. The Cannoli with fried crisp pastry is filled with ricotta cheese, dusted with cinnamon and candied fruits.
GRAPE EXPECTATIONS
Zoom East has also launched a new Menu Fisso; an express set lunch. Guests can choose from a selection of antipasti, secondi and dolce, with two courses for £19 and three for £22, with a soft drink or glass of house wine.
A succinct wine list unsurprisingly focuses on Sicily, as well as other Italian regions, created with Meli's dishes in mind. The house wines are a red, Nero D'Avola, and the white, a Grillo, benefiting from the terroir in the area. Other native Sicilian grapes are Inzolia or Catarratto. They are both typical from the north-western side of the island, in the Trapani, Agrignento and Palermo corner. Most of the wines are organic, which is a priority for Zoom East.
For summer, guests can enjoy a new list of amaro-based cocktails, perfect for alfresco sipping. Amaro, the Italian bitter liquor, is used in a selection of spritz-style cocktails, as a well as short, strong sips. Created by bar manager Kristian Smith, drinks include the Frizzante – an herbaceous twist on the classic Aperol spritz made with Cynar – and the Assolato, mixing Sicilian Amaro Averno and Maker's Mark, sweetened with peach liquor.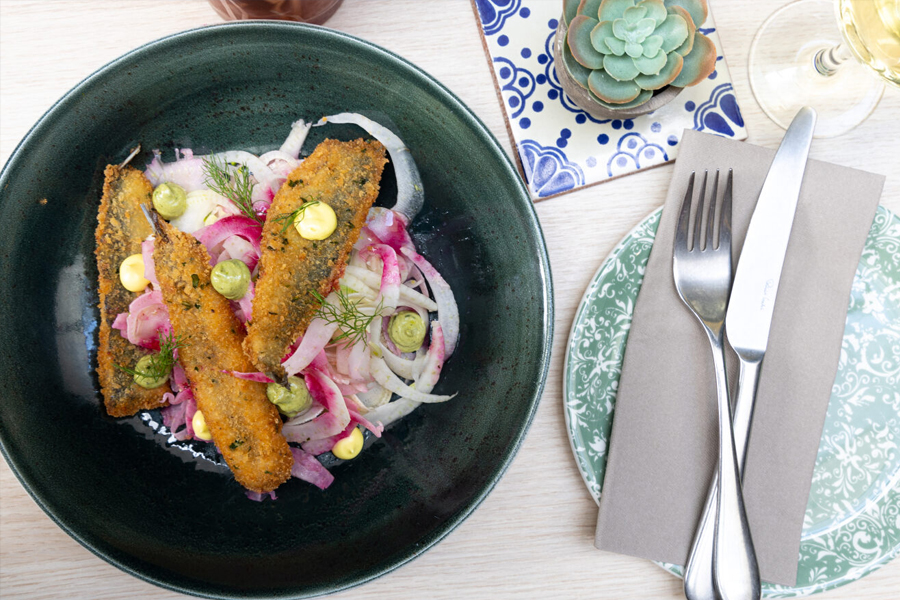 ATMOSPHERIC SETTING
The decor reflects warmth, with colourful interiors and art-laden walls. Within the restaurant, a living wall designed by florist Elizabeth Marsh brings outside in. The idea is to provide an immersive experience, allowing customers to feel as though they are in Sicily, without leaving East London.
There is also a new terrazza; a courtyard space off the main restaurant that will (weather permitting) give guests a chance to enjoy aperitivo alfresco. The walls of the plant- filled outdoor space feature bespoke artwork from local street artist Sam Kerridge. Inspired by the external living green wall in the terrazza, Kerridge's artwork stretches across the courtyard, evoking terracotta architecture and icons of the London skyline in a kaleidoscopic explosion interwoven with waterfalls.
The courtyard is connected to the restaurant's Orangery private dining and meeting room, featuring its own lush green wall, continuing the feel of botanical freshness. The private dining room's terracotta walls are adorned by local artistic works as part of the revolving exhibition series, 'Curated at Hyatt Place'.
ROLL WITH IT
Later this year, the Zoom East team are looking forward to launching a series of pasta making classes with chef Meli. The intimate sessions will give guests the chance to learn how to create Sicilian pasta dishes from scratch; from rolling the dough to producing the sauce. For Meli, there is nothing better than making fresh pasta for yourself – and he's looking forward to showing people how surprisingly easy it can be.
Through authentic food, warm hospitality and an immersive atmosphere, the team at Zoom East succeed in bringing a true Sicilian dining experience to East London.
Zoom East Bar & Kitchen is located at the Hyatt Place London City East hotel in Whitechapel. Visit zoomeast.london or follow @zoomeastlondon.